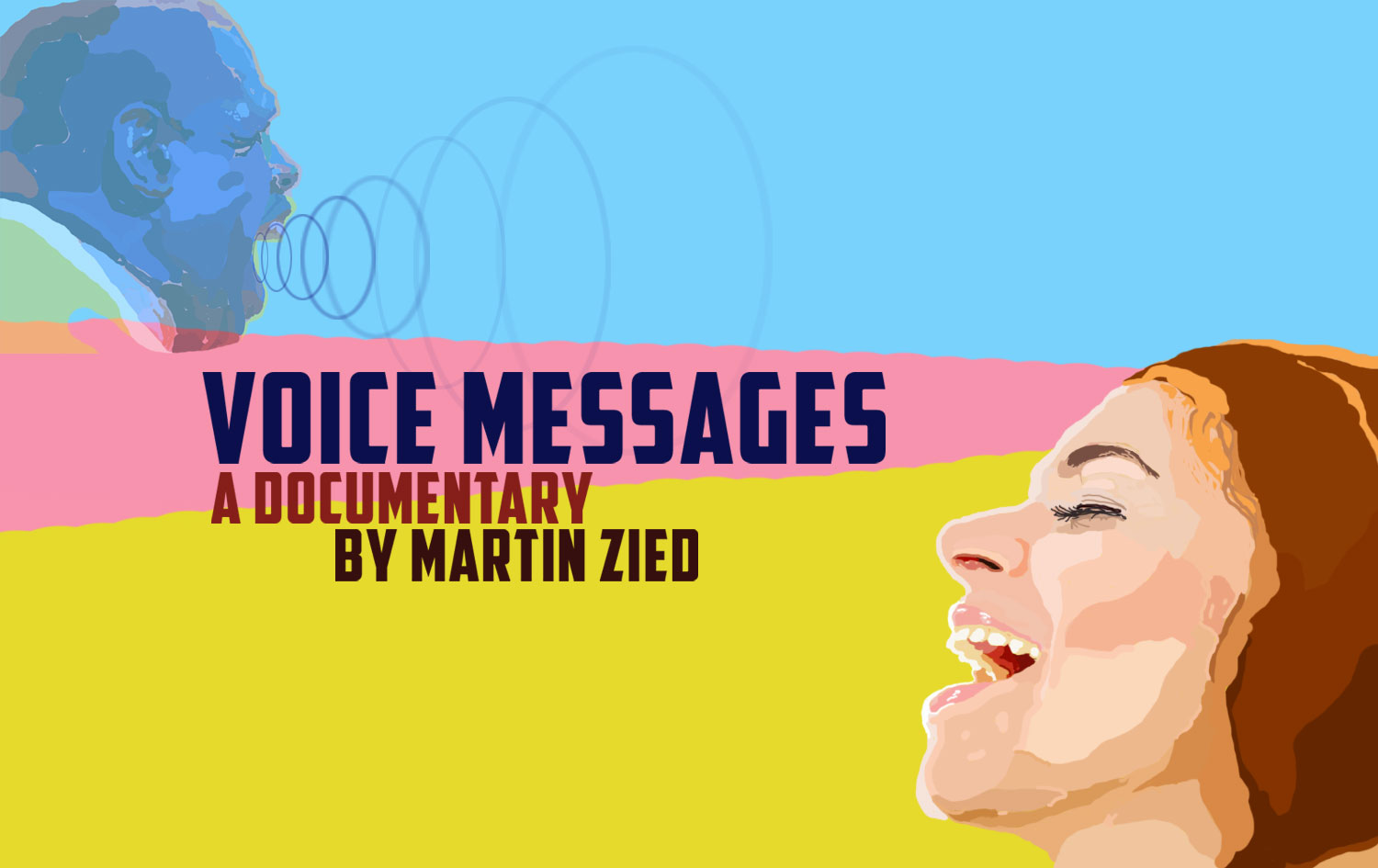 EXPLORE THE UNSUNG WONDERS OF THE HUMAN VOICE
Voice Messages is a documentary that combines singing, speaking, science, sociology and history to examine the power and beauty of the human voice.
Join multiple Grammy award winners Linda Ronstadt, Vince Gill, Lalah Hathaway and acapella legends Take 6, on a remarkable journey to the inner workings of the human voice. Voice Messages also features vocal sound effects master Michael Winslow, edgy impressionist/comedian Billy West, prominent voiceover artist Andromeda Dunker, plus experts in voice aging, health and in how we use our voices in everyday life.
And, you'll surely be moved by the noble and remarkable work being done at VocaliD in Boston, Massachusetts.
You can help! We've finished shooting and we're currently crowdfunding to raise money to edit and finish the film. Please help us get this labor of love ️ and revealing film out into the world, by contributing to our Indiegogo crowdfunding campaign. Every little (or large) amount will help!
Don't forget to follow us to like us on Facebook or follow us on Twitter and Instagram! You can also sign up for our newsletter!
Featuring
LINDA RONSTADT
With over 100 million albums sold, powerhouse singer Linda Ronstadt is one of the most popular recording artists ever! Her iconic hits, including "When Will I Be Loved," You're No Good" and "Blue Bayou," have earned her eleven Grammy Awards and a place in the coveted Rock and Roll Hall of Fame. Her distinguished career took an unexpected turn in December 2012, when she was diagnosed with Parkinson's Disease, which has stripped her of the ability to sing.
Vince Gill
Possessing one of country music's purest voices, "Vinny" has recorded more than 20 studio albums, charted over 40 singles on the U.S. Billboard charts and has sold more than 26 million albums. He has been honored by the Country Music Association with 18 CMA Awards, and as of 2017, Gill has also earned 21 Grammy Awards, more than any other male country music artist. In 2007, he was inducted into the Country Music Hall of Fame. In 2017, Vince Gill and Deacon Frey were hired by the Eagles to fill-in for the late Glenn Frey.
Lalah Hathaway
Five-time Grammy Award winner Lalah Hathaway is the daughter of R&B legend Donny Hathaway. Her sultry voice has wowed crowds across the globe and during her storied career, she's collaborated with musical giants, including Mary J. Blige, the Winans, Take 6 and Marcus Miller. In concert, she often performs the songs of her late father, including his soulful rendition of Leon Russell's "A Song for You."
TAKE 6
Ten-time Grammy winners, Take 6 uses their rich, silky voices to reach stratospheric high-note harmonies (they call it "skying") and rhythmic nuances in a unique blend of gospel and jazz. Whether performing as the headliners (we filmed them at the venerable Blue Note Jazz Club in New York) or as collaborators with musical legends like Stevie Wonder, Ray Charles and CeCe Wyans, these a cappella masters have used their voices to thrill and inspire since 1980.
MICHAEL WINSLOW
Billed as the "man of ten thousand sound effects," Michael Winslow has appeared in all seven Police Academy films (as character Larvell Jones) as well as the film comedy Spaceballs. And he does a mean version of the iconic Led Zeppelin hit "Whole Lotta Love," in which he even imitates the pounding electric guitar riffs and the wailing vocals of lead singer Robert Plant! A master of vocal sound effects, Winslow remembers lying in his bed as a child and imitating the sounds of military aircraft from the nearby base flying overhead. He hasn't stopped putting a vocal spin on the sounds he hears since!
BILLY WEST
Voice actor Billy West is best known for his cartoon voicing of both "Ren" and "Stimpy" (The Ren and Stimpy Show) and for multiple characters in the Comedy Central show Futurama. West sprung to fame as a frequent guest on Howard Stern's radio show, where his "interviews" as Johnny Carson, Lucille Ball and Larry Fine of the Three Stooges established him as an edgy comedian. He also recently voiced the characters of Bugs Bunny and Elmer Fudd for Looney Tunes films and video games.
Andromeda Dunker
To any HGTV fan, the voice of Andromeda Dunker is instantly recognizable. Her silky smooth tones grace the audiences of the House Hunters Franchise, part of the HGTV juggernaut, which drew more than 25 million prime time viewers per month last year. Since Andromeda is heard but not seen, she is widely considered to be the network's most famous unfamous celebrity!
DR. RUPAL PATEL and VocaliD
In 2013, Dr. Patel began VocaliD—a project aimed at designing personalized synthetic voices so that people with severe speech impairments can use a voice that fits their body and personality. By banking healthy voices from thousands of volunteer recordings, VocaliD is creating a voice match for those who can't speak. By 2020, Dr. Patel hopes to collect one million voice samples, to create the world's largest repository of voices.
Dr. Michael Johns
"Mike" Johns directs the Voice Center at the University of Southern California's Keck Medical Center. Dr. Johns is an otolaryngologist, who speaks extensively about voice health and how the voice ages.
DR. ROBERT SATALOFF
Otolaryngologist Dr. Robert Sataloff is a renowned voice performance surgeon and author. Dr. Sataloff has written 48 books on the treatment and care of the voice and has invented more than 100 medical/surgical instruments for the voice. He serves as chairman of the board of directors for The Voice Foundation, a non-profit voice research and treatment organization with members in 59 countries.
ANNE KARPF
Anne Karpf is a regular columnist for The Guardian and the author of The Human Voice. She is reader in writing and cultural inquiry at London Metropolitan University.
Additional scintillating contributors to come!
WHY MAKE VOICE MESSAGES?
I heard a voice when I was eight years old and it brought me to tears. Fortunately, it wasn't angry parents or my third grade teacher. Nor was it a strange voice from within or beyond. It was the voice of a fellow student as he sang "Without a Song."
In his high tenor voice was something so sweet, tender and moving that I could no longer hold back my emotions. It was the first time I realized the power of the human voice.
Since that moment, I've been acutely aware of and fascinated by our voices. I've come to see and hear that many of us are unaware of how important our voices can be in our personal relationships and work lives. Does voice play a role in whom we choose as a mate? Do we form opinions of others based on the sound of their voices? Do we sound like our parents? And how many different voices/tones do we possess for the myriad of situations we face in our daily lives? Performance artist Laurie Anderson claims that we can have as many as 50 different shades of voice! Think about how we sound when we're mad, sad, glad... when we're trying to sound loving, professional, convincing, seductive, persuasive, or authoritarian.
The voice also has a rich and diverse history. including the frightening and incredulous responses it inspired with the invention of the telephone and the first recorded music and recorded speech. And it continues to fascinate and resonate today in our daily lives, even sometimes in unprecedented ways, like GPS systems and telephone concierges.
And we rarely, if ever, think about the health of this incredible tool, nor do we consider how the voice ages. What happens if we lose it? What's the future of vocal fold harvesting for people who have never spoken?
So, I've decided to explore the human voice in ways that have never been seen or heard together in the same place! Be prepared to be entertained, informed, amazed and taken to places you've probably never been before! It's all the many sounds of Voice Messages!
– Martin Zied
About the filmmaker
Martin Zied (Producer/Director/Writer) is a six-time Emmy™ Award winner with extensive television and film experience. He has written and produced episodes and segments for TV shows including 20/20 (ABC) AND 48 Hours Mystery (CBS). His 20/20 segment on "the history of terrorism," featured an interview with Osama Bid Laden and never before seen footage of the first World Trade Center terror attack in 1993. He is also a rabid sports fan and has written for Sports Illustrated online.
Martin is also an Emmy Award winning Senior Producer and teacher at Drexel University's Paul F. Harron Studios in Philadelphia. He is a sought after public speaker and a singer and aficionado of vocal harmony, including singing performances with glee clubs, choirs, barbershop quartets, street corner doo-woppers and, most recently, an acappella gospel quartet.
Film Partners
Special thanks to the following friends of the film:
In the News
Voice Messages has been getting great press! These are some of the outlets that have covered Voice Messages.